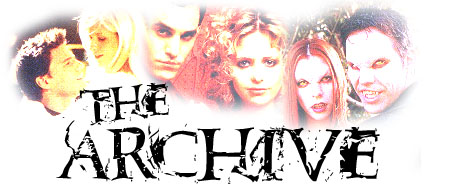 This fan fic is picked by me. It is what I consider quality sotry lines, quality descriptions, and great characterizations. If you have a recomendation, or a comment on anything, email me at buffy@postmark.net.


When Stars Collide
By Serendipity
Angel and Willow fic
[Outside Link]
Alliance
By Anya, four parts.
Willow fic, Willow goes to another dimension, trouble and romance ensues.
Willow the Vampire Slayer
Willow fic
by Lord Bowler
[outside link]
Distorted Mirrors
A really good quality Dru fic. Read it!
By Amy
Addictive Stigmata- Tragedy
Every single fic on this page rocks. Addictive Stigmata has some of the best Spike fic I've seen in a while!
[outside link]
With Vampires Till Dawn
Scully meets Spike? A very original idea. Rated NC-17.
by J.M. Stoy.
A Certain Level of Trust
Spike/Buffy
By Theory Queen
Fairy Tales Do Come True
Involves Spike, Buffy, Willow, Angel, and Dru.
by Jared Baierschmidt
[outside link]
Night of 100 Stars
The biggest crossover fic I've ever seen. Very funny.
By Robert A. Black
Changing
Willow/Spike fic.
By Bridget